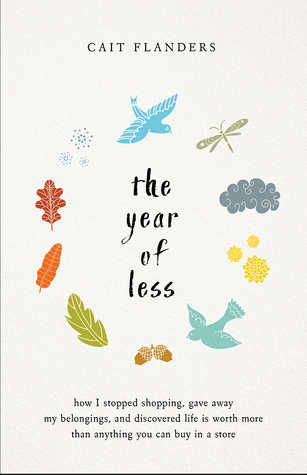 The Year of Less by Cait Flanders
Source: Library – Hoopla Digital Audiobook
Genre: Nonfiction – Memoir, shopping, self-help
In her late 20's, Cait finds herself in debt, stuck in a consumerism cycle that is becoming more and more demanding. Despite having paid off nearly $30,000 in debt, her old habits keeping reappearing, taking over the progress she's been making. Fed up one day, Cait begins a year of less, a year of decluttering all of the toxins in her life and starting a new page in her book. In this book, she chronicles her progress, but really focuses on what brought her to this stage of having less in the first place.
* * * * * * * * * *
I found this book when I was at an impasse in my reading habits. I didn't like any of the audiobooks I had downloaded and there wasn't any genre in particular I wanted to find. I came across this title just browsing through my library's Hoopla collection. I always enjoy books about decluttering so I gave it a try. It was completely not what I was expecting and it was completely refreshing, depressing and engaging. So many titles of the same topic include the after-effects of getting rid of our stuff. So many of those titles are about the wealthy who have the option to declutter and do it more for an aesthetic than a life-changing experience.
Cait spends very little of the book actually talking about her experience of having less. All of that she chronicled on her blog Blonde on a Budget prior to the book's release. In this book, she delves into what led her into her unhealthy lifestyle and how she slowly crept her way out of debt, out of alcoholism, out of consumerism habits that were bringing her down emotionally, physically and mentally. Her story is very raw and very real and I really appreciated her honesty. Progress and change aren't easy and they don't happen overnight. She found that keeping a blog and reporting to the wide world kept her accountable, most of the time. Its really a book about prioritizing our values and the value of experiences versus the value of things. She personalized it to her needs and without setting particularly restrictive limits, she found herself spending less, attempting to DIY or repair when possible. But also admitting that those things are really more effort than their worth. Which is so refreshing to hear. Yes, we can all make our own candles…but do we really want to, and should we feel like we have to when we don't want?