True to my word, I'm going to attempt to update this blog on a regular basis again this year.
I'll start with a summary of what I read in January.
There's No Such Thing as Bad Weather by Linda Akeson McGurk
Source: Library
Genre: Parenting
I adored this look into the Scandinavian style of parenting. It was an encouraging reminder that it is OK to let my kid play outside in non-sunny weather. McGurk was not preachy nor demeaning towards American parenting styles, as most international parenting books tend to be. This was just an account of her life in US, then in Sweden. Each chapter ends with a book recommendation as well as a few ideas or things to keep in mind when letting kids play in inclement weather. I quote from this book a lot at work and to the preschool teachers and parents that I work with.
PS. If you want more titles like this, try: 
  &   
Dear Fahrenheit 451: Love and Heartbreak in the Stacks by Annie Spence
Source: Library – Hoopla Digital Audiobook
Genre: Books about Books
A book about books by a librarian carefully weeding (getting rid of) books from the bookshelf. Some books I had read and loved, other's I knew nothing about, other's I immediately added to my To-Read list. I loved Annie's take this part of the library-world. I loved her wry humor and all of her stories about conversations with library patrons that I too have had in the course of my career.
P.S. If you want more titles like this, try: 
   &   
What She Ate: Six Remarkable Women and the Food that Tells Their Stories
Source: Library – Overdrive Audio
Genre: Biography – Food
A culinary historian takes a look at the lives of 6 women through the food they ate, served to others or otherwise made up their lives. It was an interesting book and I learned something about each of the women in the book. Although pretty much all of the women in this book are white, European, with upper or middle class status. I was hoping for more diversity. Eva Peron or Frida Kahlo would have had amazing stories. Shapiro choose 3 women from England, 2 from the US and 1 from Germany. Although the book spans the century from Dorothy Wordsworth to Helen Gurley Brown, I didn't find anything particular fascinating about this book. Somewhere during the Barbara Pym chapter I started zoning out of the audiobook. When I restarted the chapter after a break, I honestly had no idea which woman she was talking about, all of their food issues began to sound the same. I found the Eleanor Roosevelt chapter the most interesting because of how horribly the food was served at the White House. Shapiro delves in the history and events of the era each women lived in, adding context and perspective to the foods in their lives. I found those portions far more interesting than the actual food or the women themselves discussed in the book.
P.S. If you want more like this, try: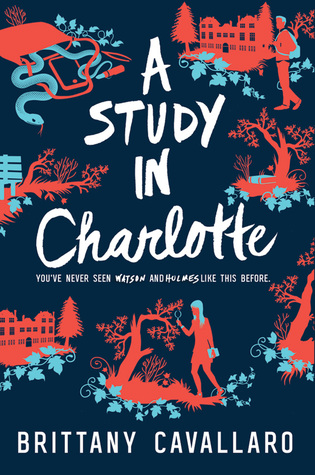 A Study in Charlotte (Charlotte Holmes #1) by Brittany Cavallaro
Source: Library (Overdrive Audiobook)
Genre: YA – Mystery
The great, great, great descendants of the amazing (and very real) private detective duo of Sherlock Holmes and John Watson find themselves sent to the same New England prep school in their freshman year. Charlotte Holmes and James (Jaime) Watson are linked by a string of murders and attacks on the school as they dig through the clues to solve the mystery.
This book was incredibly fun to listen to. The characters were true to their origins (stoic Holmes and the observant Watson), but also had the hallmark drama and insecurities of being teenagers dealing with identity issues, peer pressure and homework. The narrator did an amazing job and really kept the story going. The plot was well-paced with interesting twists. Much of it was predictable, but it didn't make it any less entertaining. I could see this turning in an incredibly fun TV series.
P.S. If you want more like this, try: