March was also another busy, busy month. Busy at work, busy at home, busy moving. Again, the best place to track what I'm reading and what I think of the books I'm reading is Goodreads. I hope that I'll be back to writing individual reviews on here in April. Or at least weekly recaps. My reading has slowed down some. There seems to be a huge disparity between the books on my to-read list, the books available on Overdrive as audio, and the books physically housed in my local library. It's like a venn diagram where none of the three circles overlap.
March final count:
Books = 3
Audiobooks = 4
Fiction = 4
Nonfiction = 3
Total = 7
Total for 2016 = 23
The Madwoman Upstairs by Catherine Lowell
Format: book
This was not exactly the Jane Eyre literary scavenger hunt I  had hoped it would be. The narrator was initially quite annoying and boastful of her family's celebrated relationship to the Bronte sisters. She mellowed out over time and I came to appreciate her self-deprecating jokes. The love story was incredibly predictable and I never had a clear sense of where the story was headed. She ignored large parts of the "hunt" for most of the book. But it did all come together at the end and it was an ending I didn't exactly expect.
Enchantment: The Life of Audrey Hepburn by Donald Spoto
Format: Audio Book
I'd been wanting to read an Audrey Hepburn biography for years. I finally found one on my library's Overdrive and immediately checked it out. I wish I had read another one instead. The author spent most of the book critiquing her movies and co-starts than actually talking about her life. His opinions felt forced, arbitrary and unjustified. I was also shocked to learn at the number of extramarital affairs Audrey Hepburn participated in during her life. The author wrote her to be such a sad and unloved person, ready to jump into the arms of anyone willing to show her affection. I feel like I read to another account to balance out his summary of her life.
Modern Romance by Aziz Ansari
Format: Audiobook
Although I enjoyed his narration and his exploration of the world of modern dating, I am so grateful to not be in this world anymore. My husband and I met in college when AIM was still the main source of online communication. We heavily utilized chat services and Gmail Chat when we were long distance to keep in touch because neither of us are phone people. But the amount of online options, personas and drama that is going on today is ridiculous. Ansari's narration was at times stilted (when he was clearly reading his co-partner's words) and at times natural and humorous (his audiobook asides and improve moments). I went into this book expecting it to be like Master of None, but it is clearly a different animal altogether.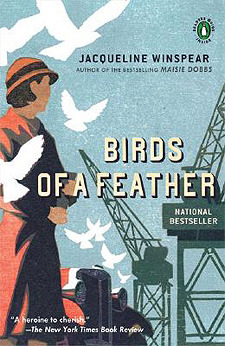 Birds of a Feather by Jacqueline Winspear
Format: Audiobook
I enjoyed this second Maisie Dobbs book so much more than the first. This one immediately jumps right into a missing persons case with is tied to a series of mysterious deaths of three young women around London. I just wish the author gave more insight into Maisie's thought process when figuring out the case. Things just happen, or things are just told but without any detail for the reader. It was a bit choppy, but I really liked the chemistry between all the characters and each person had their own personality. I'm taking a wee break before jumping into book 3. I'm hoping book 3 has a different narrator than book 2. I wasn't too fond of the narrator for this book. Her reading voice was so rushed that I had to double-check to make sure the pace wasn't sped up on accident on Overdrive.
 Across the Pond: An Englishman's View of America by Terry Eagleton
Format: Book
I had really high hopes for this book. I'm constantly reading about Americans overseas. I really wanted to read the reverse. What are we really like as a country? Well, Terry Eagleton answered my question. We are rude, fat, religious prudes. His book was full of sweeping generalizations, random jabs, small moment of British self-deprecating opines and unfocused bias. I wasn't sure what his point was through the entire short read. He never offered any examples or studies aside from his random run-ons on the Ivy League campus where he taught. Maybe if he actually did some research outside of his small inner circle of friends, it would be something worth reading.
 The Remains of the Day by Kazuo Ishiguro
Format: Audiobook
Goodreads recommended that I read this book because I loved The Unlikely Pilgrimage of Harold Fry. Well, I'm glad I picked it up. It is an incredibly lovely novel about the most faithful and devoted British butler you'll come across. I think fans of Downton Abbey will really appreciate this book and its story. I enjoyed the book when I was listening to it, but I'm not sure if I liked the story or the narrator's reading. Mr. Stevens emitted a robotic aura, always concerned with dignity and loyalty to his lordship, rather than projecting any kind of accessible emotion. I still sympathized for him and could feel his struggle to both feel emotions and yet remain distant from his emotions so that he could fulfill his duties at his utmost capabilities. It is an interesting look at the "downstairs" life of servants in the early 20th century. I wasn't sure impressed, but I am curious to see what the author's other books are like.

 Be Frank with me by Julia Clairborne Johnson
Format: Book
I'm not sure where I first heard of this book, but I was happy to be a recipient of a copy from LibraryThing's First Reads group. The book itself is both charming and annoying. Trite and endearing. Much like the two main characters, the mother-son duo who make up half of the relevant cast. This is the story of a small-town girl, Alice, moving to LA to "help" a reclusive and incredibly famous author finish her second book. The relationship between Frank and Alice felt very unrealistic. Frank was both the best and worst part of the book. I'm starting to develop a real pet-peeve against kid characters being wise beyond their years. Just write kids as kids. Stop making them prophets or something more symbolic already.