February has really been a bizarre and busy month for me. I read a lot but had absolutely no time to sit in front of WordPress to type anything significant about what I read. Here's hoping for a quieter March.
Quick Stats:
Books Read: 7
Fiction: 7
Nonfiction 0
Audio: 4
Print: 2
Ebook: 1
But this is what I did read, in a series of mini-reviews, for February.
Maisie Dobbs (book 1) by Jacqueline Winspear. I feel like I read a Maisie Dobbs novel years ago, but I honestly can't remember. Reading this first book in the series in a wonderful introduction to Maisie. In fact, that's pretty much all this book is, an introduction and history of Maisie Dobbs. There is a mystery to be solved, but it doesn't really appear until the near of the book. In the meantime, there is a wonderful history lesson in there about the WW1 and pre WW2 era. It's an era of historical fiction that's often neglected in favor of WW2. I like Maisie as a character though. She's smart, she's quiet and she's very observant. She's also so much better than Daisy Darylmple. Daisy almost feels like a parody of Maisie Dobbs now that I've read both books.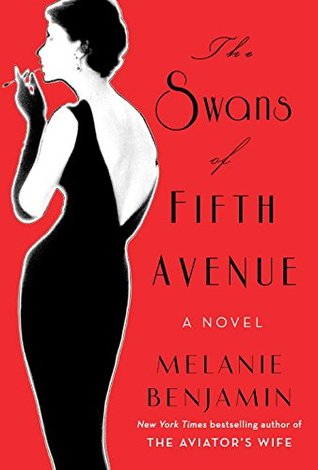 The Swans of Fifth Avenue by Melanie Benjamin. I am such a fan of Melanie Benjamin and her historical fiction. I devoured this book in about two days once I spotted it at the library. Its full of gossip and scandal, covering Truman Capote's short stint as a literacy genius running with the "IT" crowd of socialites of the 1960's and his eventual fallout from the group. I don't think this was her strongest book, I think her strength is getting into the head of women more than men. But it was a good book for the month nonetheless.
Brooklyn by Colm Toibin. I had read so many good reviews about this book and its been all over the book-blog-o-sphere. I was thoroughly disappointed by the lack of depth or action in this book. Ellis is a flimsy character who does as she is told. Whether its to pack up and move across the ocean from Ireland to New York or marry a man she has iffy feelings about. There were a number of avenues that the author hinted at that could have made the book so much better had he explored those paths.
Meet Me at the Cupcake Café by Jenny Colgan. One of my favorite pick-me-up genres: Opening a Bakery changed my sad-sap life. In this tale, Issy has been let go from her job where she had an off-and-on affair with her boss. Down and destitute, Issy puts her severance package to good use opening up a little coffee off the beaten path and turning her hobby of baking into a real business. Along way, there is drama, yummy-mummy scandals and even a love triangle or two. The book is also sprinkled with wonderful cupcake recipes worth attempting.
A Window Opens by Elizabeth Egan. When Alice's husband quits his high-powered attorney job at a major firm, Alice picks up the slack by quitting her part-time job of book reviewer for a full-time position at a major online book corporation not too dissimilar to Amazon. Along the way, she struggles with the balance of work, family, kids, husband and a sick father. Although at first glance it seems like a typical chick-lit book, I really appreciate how Egan did not glamorize the do-it-all persona of working moms. We can't and don't do it all. It is a constant struggle and more often than not, we guilty for whatever choice we made whether its family first or work first.
The Night Manager by John Le Carre. Lets be real here. This book has been adapted into a mini-series staring Hugh Laurie and Tom Hiddleston. It'll air on AMC in the US sometime in April or May. So, of course I had to read it in preparation for the show. I liked the book a lot though. This genre is definitely not in my usual repertoire of books and it was a welcome change of pace from what I usually read. The characters were rich and full of depth and history. The story was interwoven so seamlessly and it never dulled or strayed. I could see myself reading more of Le Carre in the future.
The Love Song of Miss Queenie Hennessy by Rachel Joyce. I immediately picked up this title after I finished The Unlikely Pilgrimage of Harold Fry. I wanted the story to continue and it did. Queenie's side of the history adds so much more flavor and character to Harold and his family. I'm glad I read Harold Fry first, although the two books can be read independent of each other. I wonder what it would have been like to read them in reverse order actually. What would Harold's pilgrimage to Queenie have been like had I known her side of the story first? It's a wonderful book with wonderful and endearing characters. It's equally heartbreaking though. I cried through the majority of the ending. Have a box of tissues at the ready with this title.