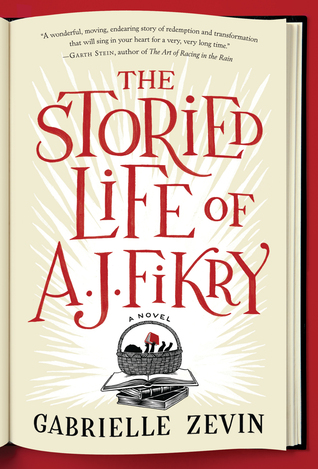 Title: The Storied Life of AJ Fikry
Author: Gabrielle Zevin
Source: Library Copy
Publisher: Algonquin Books, 2014
Although this was published over a year ago, this is a title I've been seeing making the rounds on book blogs and on library carts over the past few months. It was actually this month's book club selection for a library book club that I incidentally ended up skipping.
I fall into an odd spot with this book. My memory of the book is fonder than my thoughts were while I was reading it. This book is an ode to readers and their books. From the first page to the last, the book is filled with notions and quotes that readers will cherish, relate to and appreciate. Although those sentiments and the general story were memorable, there was still much left untouched within the story. The story begins with an awkward sell to a bookseller, A.J., from a publishing sales representative, Amelia. A.J. suffers two major losses at the start of the book. The first is his wife Nic in a tragic car accident. The second is a rare manuscript of Tamerlane, an extremely rare collection of poems by Edgar Allan Poe, said to be worth 400 thousand dollars. After returning home from an early morning job, A.J. finds something unexpected and life-changing tucked away into his store. This then starts a change in his life, taking his down different paths than what he could have ever imagined.
The characters are interesting, diverse and quite dysfunctional on many levels. Those parts of the story I liked. At times the story and the quotes were too sentimental, maudlin even.  It was very purple-prose. Much of the story was predictable and many of twists were cliché. The pacing was too choppy for me. Things just happen from leaping over years, with no transition and no depth. Everything just falls into place, no trouble or effort involved. It was a cop-out gimmick. For all the drama purported through the character's and their descriptions, there is virtually no conflict in the book. Everything resolves neatly, everyone communicates, is empathic and sympathetic all the time. Its an ideal world of fiction. Maybe that was the author's intent?