Title: Little Beach Street Bakery
Author: Jenny Colgan
Source: Publisher
Publisher: William Morrow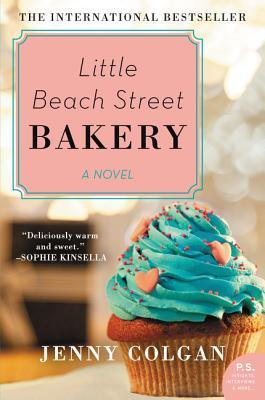 Not only is Polly's long time relationship with boyfriend Chris going downhill, but so is the graphic design business the two had built up from the ground. As their lives diverge, Chris moves back home to his mother, leaving Polly alone to find her own way. Where, though is the main question in this book. Polly finds a run-down flat on the island Mount Polbearne, a seafaring village in Cornwall. Both figuratively and literally, Polly is on an island, trying to piece back what little is left of her life, starting anew and rediscovering hidden talents and passions that soured due to a stressful relationship and failing enterprise.
The "my life is ruins, I'll fix it by baking/cooking" books are seriously becoming my favorite guilty pleasure reads. The plot in this book is very thin and parts of it are incredibly unbelievable. Polly & Tarnie for one. I don't want to give away spoilers, but the way the entire town reacts to their friendship and what happens afterwards is just so…sugary? I don't know the word of it.  There are a number of twists in this book but they only delayed the inevitable and predictable love story. All that aside, I loved this book, the characters and the little village of Mount Polbearne. I love these types of books that really focus on finding your inner talents and following your dreams. Even though in all of these types of books, things just  seem to land onto the main characters laps. I guess that's partially why I love these books. The other reason is that reading these books gets me excited to be in the kitchen.
Polly, has a passion for baking bread. It was a skill she worked on during her weekends apart from Chris, when he was traveling, moody or otherwise unavailable. The US cover of this book is incredibly misleading with its picturesque cupcake. Polly bakes bread, not desserts. Very little, if anything is said of desserts in the book. There are 7 recipes at the end, although you will need to convert them from the metric system to bake in the US.
Since I started this book, I've baked two loaves of French bread and two loaves of Focaccia. The focaccia was ridiculously easy to make. It only took an hour from start to finish out of the oven. That recipe will be on steady rotation with my weekly meal-planning in the future. I'm curious to learn more about quick-bake yeast recipes. I love that I only had to wait 15 minutes for the focaccia dough to rise before putting in the oven. I need more recipes like that.
PS (other foodie books)
Weekend Cooking hosted by Beth Fish Reads. Weekend Cooking is open to anyone who has any kind of food-related post to share: Book (novel, nonfiction) reviews, cookbook reviews, movie reviews, recipes, random thoughts, gadgets, quotations, photographs. If your post is even vaguely foodie, feel free to grab the button and link up anytime over the weekend. You do not have to post on the weekend. Please link to your specific post, not your blog's home page. For more information, see the welcome post.
© 2015 by Nari of The Novel World. All rights reserved. You can also follow me @TheNovelWorld